Our Orange Trailer - "Graceland"

The best BBQ joints down South aren't fancy store fronts, ritzy restaurants, or megaplexes with miles of paved parking. The best are found in old gas stations, corrugated tin shacks, run down little places, and roadside trailers like this one. We knew it was going to be our BBQ home when we saw it. We could have done it differently, but a BBQ joint with linen tablecloths? Only good for wiping your greasy fingers on!
About our Smokin' Good Barbecue...
We use only the finest fresh meats available, dry rubbed with secret spices. Our meats are smoked in a time-honored method, using only local hardwood, at a very low heat, for a long time (sometimes up to 16 hours).

There are ways to cut corners, get it done faster, but that's not BBQ. All of our sides are likewise made from scratch, prepared in our unique style.
Be your own Pitmaster!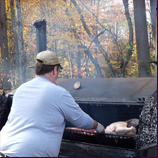 We also sell cold racks of ribs and bulk BBQ for you to heat at home. Show us the money, take all the credit.
We also cater parties, big or small. Give us a call!
207.824.4PIG (4744)